Trafficking for sex is demand driven.
The demand also makes it a lucrative business for the traffickers. The key step to combat this growing menace is through awareness. Knowledge of how, why and who of sex trafficking can create a safety matrix for young children and girls who are increasingly on the radar of sex traffickers.
Out of the 40.3 million victims of trafficking today, 30% comprise of young children, with majority being young girls. We educate to end demand through a systematic awareness program for school children. Our Rural and Urban School Awareness programs took us all around the country and we got the same request from hundreds of educators and students – bring us more to learn about safety! The Missing Awareness and Safety School program (MASSp) is our response to this ask, echoing across India.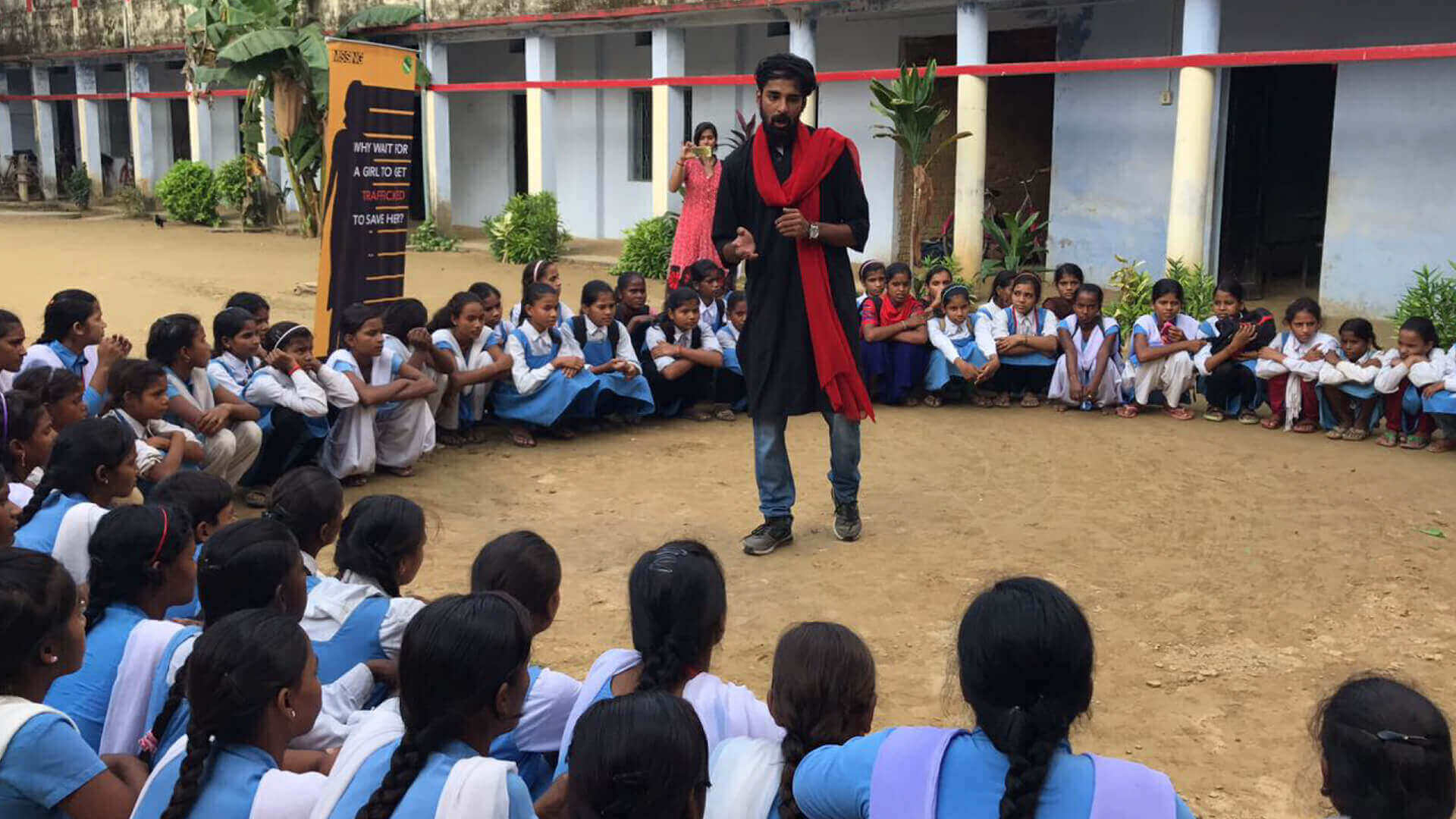 What is MASSp?
Developed inhouse with inputs from experts, MASSp will provide systematic awareness of prevention of exploitation and trafficking. It's designed to achieve this through a pedagogical approach that combines the immersive impact of art and scalability of technology.
While trafficking is the ultimate form of exploitation and abuse, adolescents go through many less severe forms of abuse and exploitations in their daily lives. Without the awareness on how to identify and fight these, they suffer in silence.
MASSp's modules are designed to tackle these issues and build a strong sense of empathy for themselves and others who suffer around them. In addition to learning how to keep themselves safe, the adolescents are made to raise awareness among their peers and their communities. This allows them to take ownership of building a safer world for all.
This 30 hour program is designed exclusively to address the many safety concerns of adolescents whose lives constantly weave in and out of online and offline worlds. This program is for students in class VII to class XII or between the ages of 13 and 17. MASSp is available in English and is currently being developed in Hindi, Bengalu and Kannada. It's available as both offline and online programs so we can reach every last child in India.
Find out more about MASSp here.
Key Highlights
Majority of the students belong in the 13-18 age group
100% of the students who attended the MASSp Pilot reported this module improved their understanding of how peer pressure, consent, self esteem, body image play an important role in their lives.
98% of the students who attended the MASSp Pilot learnt new things and even surprising and useful information.
When asked about situations or experiences that have affected their physical and mental well being, many who felt safe speaking up reported incidents of physical abuse, molestation, gender inequality and body shaming.
46% have seen cases of child marriage and missing girls in their neighbourhood
94% of students rated themselves as 2 or 3 on a scale of 1-10 on their knowledge of trafficking and what they can do to prevent it.
The rating changed to 6 or 7 after attending the awareness programmes with 86% wanting to participate actively to prevent sex trafficking cases in their neighbourhoods.
Why MASSp?
-Niti Ayog
Child survivors of sexual abuse are at increased risk for inappropriate sexual behavior depression, posttraumatic stress disorder (PTSD), and other emotional and behavioral problems throughout their life span. They are more likely to experience social and/or health problems in adulthood, such as alcohol problems, use of illicit drugs, suicide attempts, and marriage/family problems. CSA survivors are vulnerable to later sexual re-victimization in both adolescence and adulthood. It has a clear correlation with high-risk sexual behaviors and may have a connection with later abuse on others. (Murray et al., 2014)
The 2006 World Report on Violence against Children provided estimates that in 2002 approximately 150 million girls and 73 million boys were subject to contact CSA worldwide, including 1.2 million trafficked children and 1.8 million exploited through prostitution or pornography.Awareness on Prevention of Sex Abuse and Exploitation has never been streamlined as a systematic school program and there is consensus on the need for such a program. The ​Missing Awareness and Safety School Program is the first of its kind and will shape future generations to stay safe, both online and offline, and curb the rising demand for commercial sexual exploitation.
Key Objectives of the Programme
Awareness Leads to Prevention: The MASSp will empower its learners with the knowledge of how to identify abuse and exploitation and prevent it. The learnings will include a know-how of legal recourse, available government schemes and laws relating to the issue of abuse and exploitation.
Innovative Pedagogical Approach: Learning needs hand holding for a vast majority. Through its use of immersive narratives and a technology-powered pedagogy for the execution, MASSp encourages self-learning and provides experiential learning, and thereby offers an engaging learning experience, to drive behavioural change.
Create Change Agents and Spokespersons: Each learner is expected to take back the learning to his or her community and sensitize them, triggering a powerful ripple of awareness potentially leading to sustainable social transformation.
Addressing the root of the issue: MASSp is designed not only to educate learners about forms of abuse and exploitation but also to create awareness about social norms and their contemporary manifestations that shape our environment.
Assessment and Evidence Sharing: With a focus on deep research and advocacy, the data collected through MASSp's outreach will provide insights on factors contributing to sex abuse and exploitation. The insights derived and collated will be published in the form of reports for improved public policy formulation and implementation.
Key Outcomes of the Urban School Awareness Programme
Learners will know what sexual exploitation is and will empathize with the plight of survivors
Learners will know that awareness is crucial to the prevention of sex abuse and exploitation and will sensitize their peers and communities on the issue
Learners will be equipped with the vocabulary and the tools to speak up
Learners will know the risks of being online and will know how to secure themselves
Learners will know the power of social media for social impact and will use these platforms to speak up on issues important to them.
Learners will know the importance of consent, understand their body and emotional and physical changes they undergo and will speak to their caregivers and elders more openly