Trafficking for sex is demand driven.
The demand also makes it a lucrative business for the traffickers. The key step to combat this growing menace is through awareness. Knowledge of how, why and who of sex trafficking can create a safety matrix for young children and girls who are increasingly on the radar of sex traffickers.
Out of the 40.3 million victims of trafficking today, 30% comprise of young children, with majority being young girls. We educate to end demand through a systematic awareness program for school children. Our Rural and Urban School Awareness programs took us all around the country and we got the same request from hundreds of educators and students – bring us more to learn about safety! The Missing Awareness and Safety School program (MASSp) is our response to this ask, echoing across India.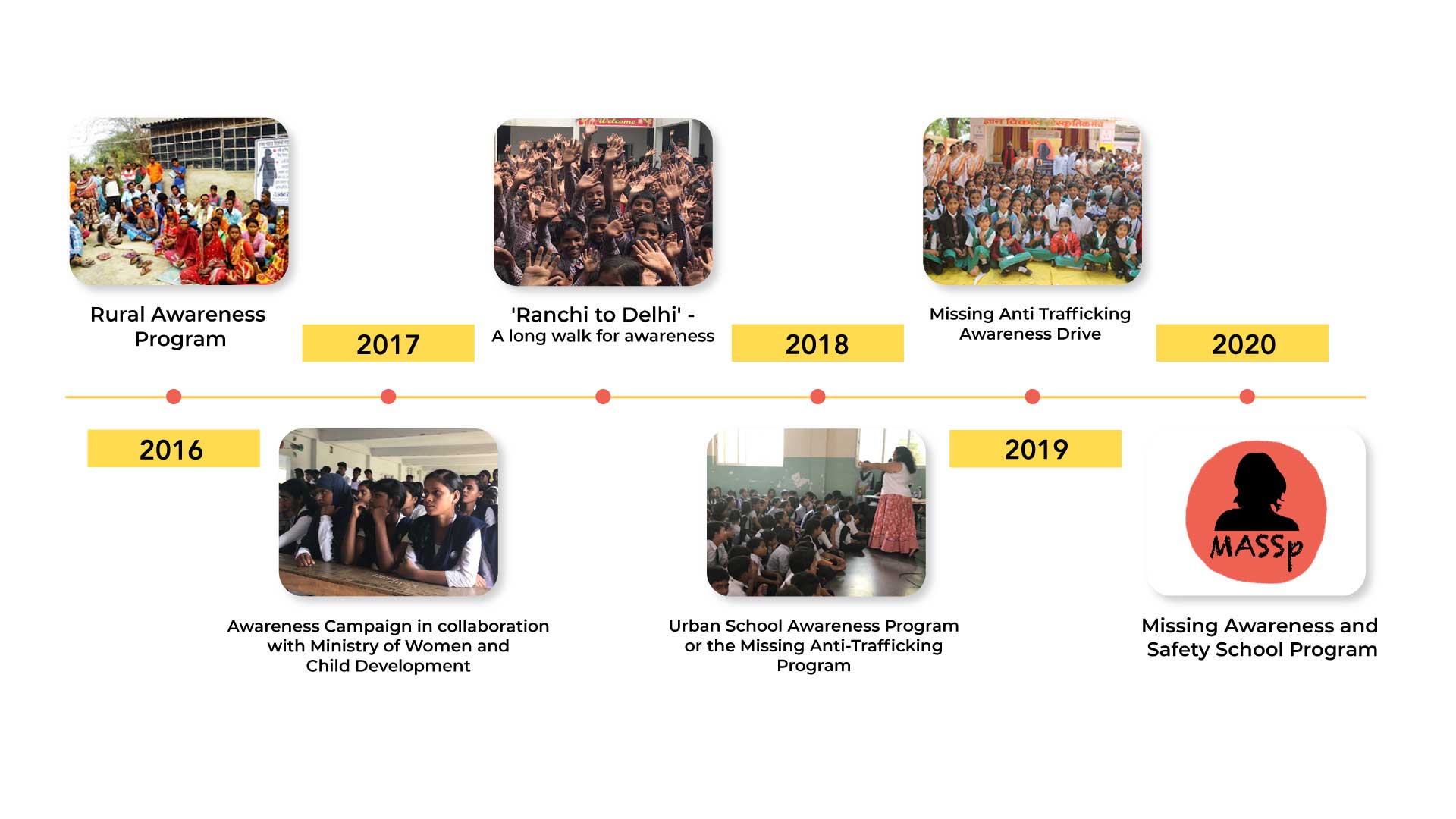 What is MASSp?
Missing Awareness and Safety School program (MASSp) developed by us in collaboration with experts, is a first-of-its-kind safety awareness program that is designed to address the personal safety and empowerment needs of adolescents.
MASSp is designed to mainstream important social and emotional learning around safety through innovative digital pedagogy. We use compelling narratives, art, and technology for immersive experiential learning that is relevant to every adolescent.
Our curriculum addresses both the online and offline safety concerns of adolescents whose lives constantly weave in and out of physical and virtual spaces.
This 15-hour program is designed exclusively for adolescents in class VII to class XII or between the ages of 13 and 17. MASSp is available in English and is currently being developed in Hindi, Bengali. It's available as both offline and online programs so we can reach every last child in India.
Find out more about MASSp here.
MASSp trailer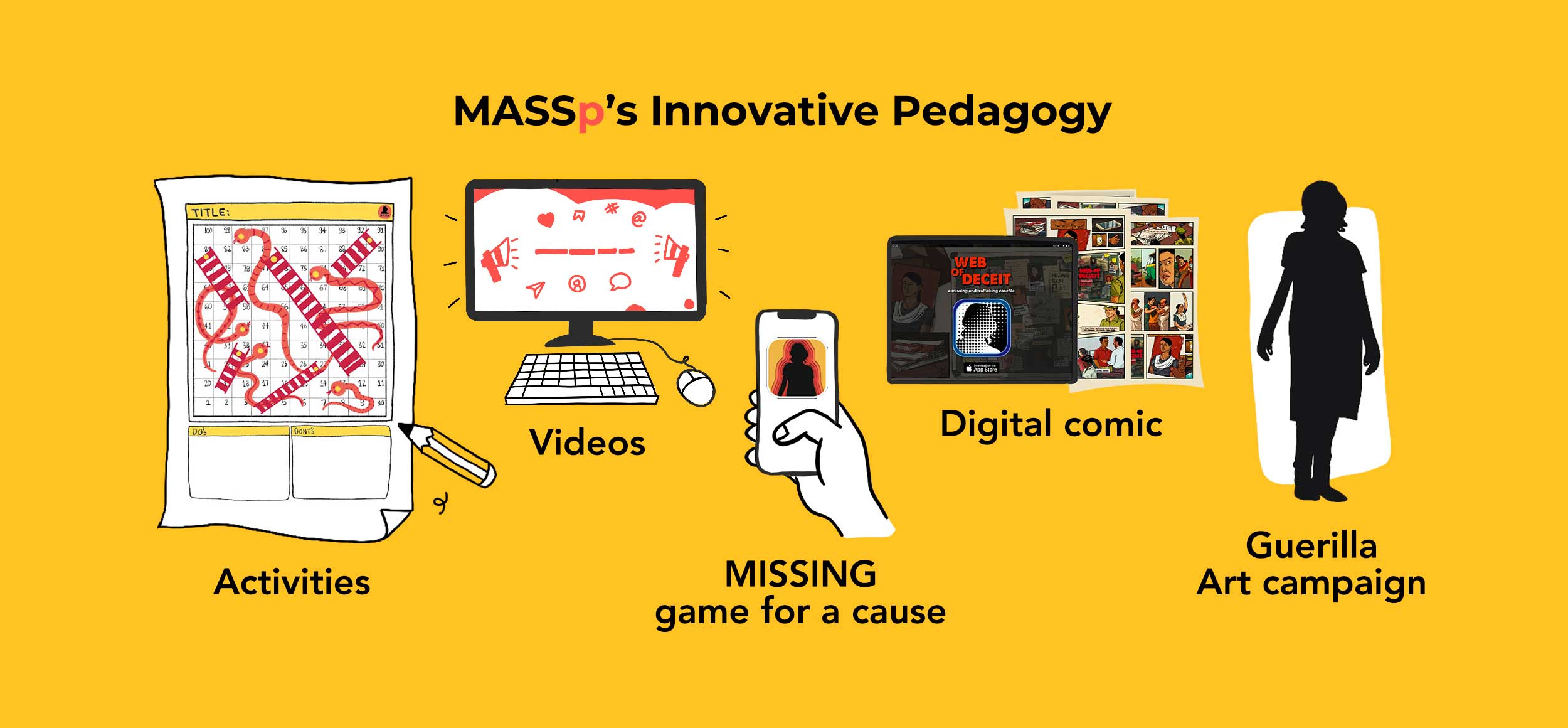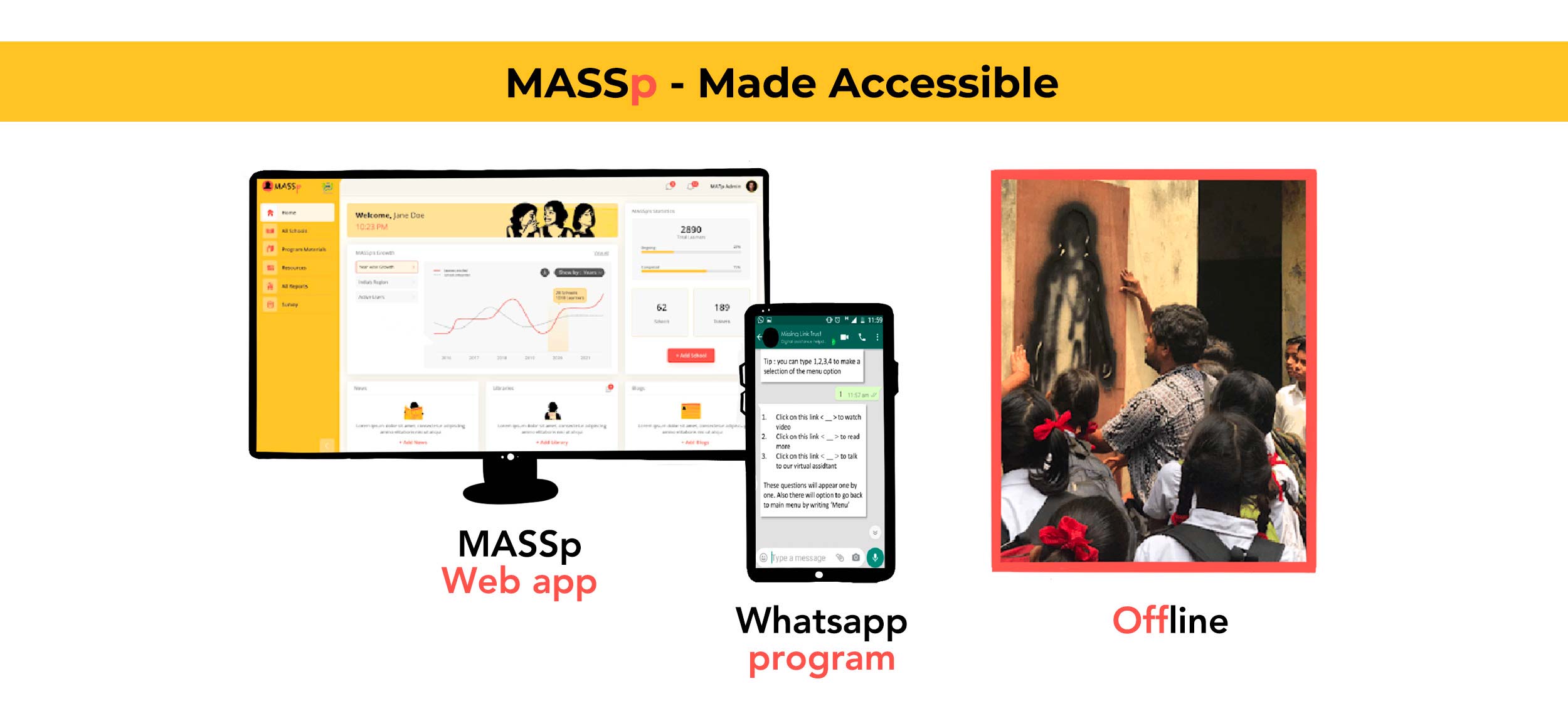 Why MASSp?
-Niti Ayog
Child survivors of sexual abuse are at increased risk for inappropriate sexual behavior depression, posttraumatic stress disorder (PTSD), and other emotional and behavioral problems throughout their life span. They are more likely to experience social and/or health problems in adulthood, such as alcohol problems, use of illicit drugs, suicide attempts, and marriage/family problems. CSA survivors are vulnerable to later sexual re-victimization in both adolescence and adulthood. It has a clear correlation with high-risk sexual behaviors and may have a connection with later abuse on others. (Murray et al., 2014)
The 2006 World Report on Violence against Children provided estimates that in 2002 approximately 150 million girls and 73 million boys were subject to contact CSA worldwide, including 1.2 million trafficked children and 1.8 million exploited through prostitution or pornography.Awareness on Prevention of Sex Abuse and Exploitation has never been streamlined as a systematic school program and there is consensus on the need for such a program. The ​Missing Awareness and Safety School Program is the first of its kind and will shape future generations to stay safe, both online and offline, and curb the rising demand for commercial sexual exploitation.
Key Outcomes of the Urban School Awareness Programme
Learners will know what sexual exploitation is and will empathize with the plight of survivors
Learners will know that awareness is crucial to the prevention of sex abuse and exploitation and will sensitize their peers and communities on the issue
Learners will be equipped with the vocabulary and the tools to speak up
Learners will know the risks of being online and will know how to secure themselves
Learners will know the power of social media for social impact and will use these platforms to speak up on issues important to them.
Learners will know the importance of consent, understand their body and emotional and physical changes they undergo and will speak to their caregivers and elders more openly
What if we can keep adolescents safe from abuse and exploitation with only 40 minutes of awareness sessions a week?
Come experience the power of awareness.
Enroll for MASSp!
Write to us at massp@savemissinggirls.com or Click here