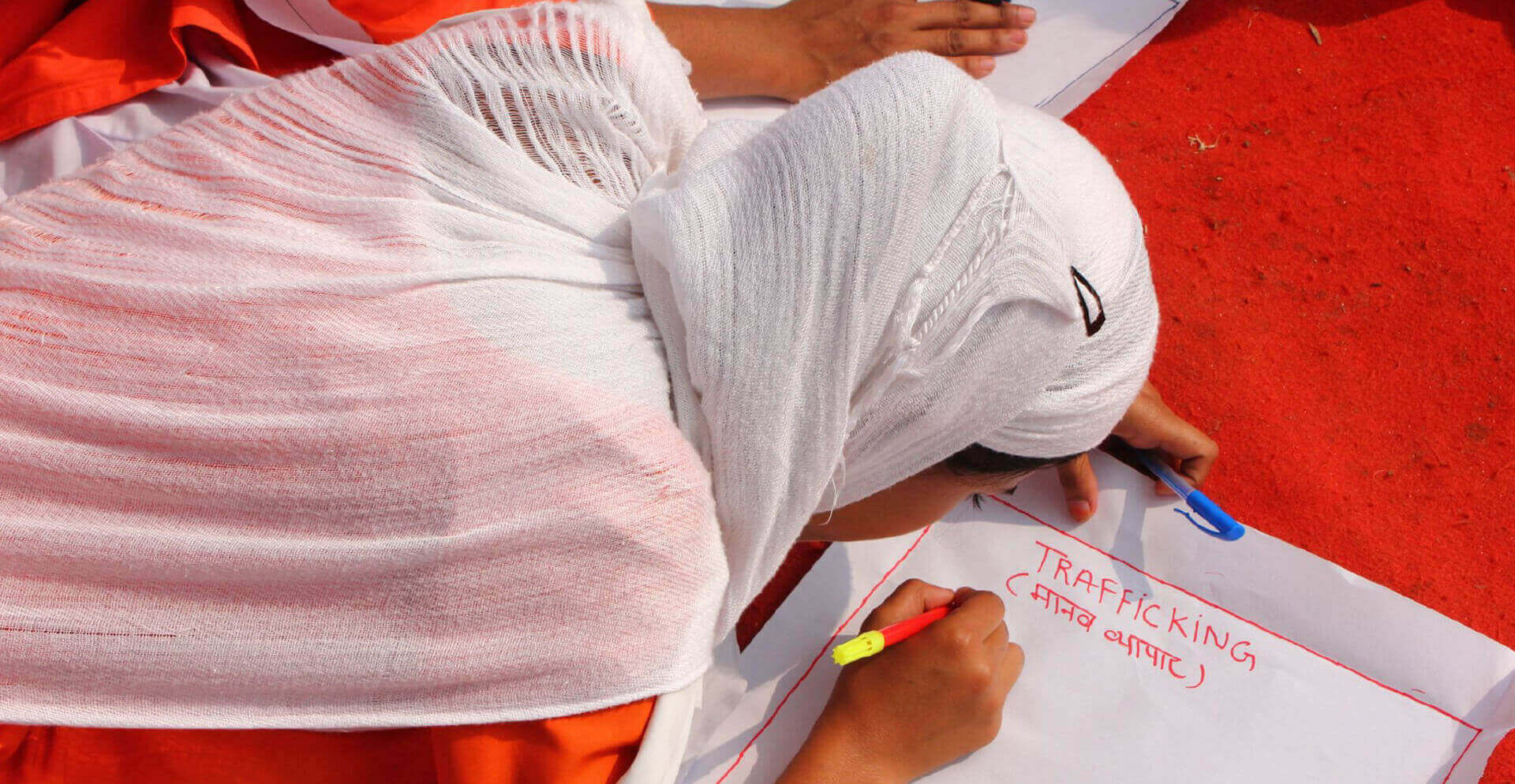 The Missing Awareness and Safety School Program (MASSp)
We started the Urban School Awareness Programme in December 2018. We believe it is important to reach out to children in urban areas as well since the trafficking itself is now moving from rural to urban. Children in cities are increasingly being targeted by sex traffickers, who find it easy to approach them online. The rapid adoption of digital technology is affecting societies at multiple levels and adding to the complexity of peer relationships, parenting and child protection.
Now known as the the Missing Awareness and Safety School Program (MASSp), it provides systematic awareness on prevention of sex abuse and exploitation to adolescents, through a unique pedagogy that combines the immersive impact of art and technology.
All modules have both theoretical and practical components. In addition to this, the MASSp is embedded with innovative tools, such as the MISSING Mural with chatbots, an interactive digital comic, the MISSING game and the MISSING stencil.
It aligns with the National Education Policy, 2020 and will be disseminated in English, Hindi and regional languages as per requirements. It can be implemented under SEWA (Social Empowerment through Work Education and Action) in CBSE schools and Creativity, Activity, Service (CAS) program in International Baccalaureate (IB) schools.
Read more about the Program here. Reach out to us at massp@savemissinggirls.com to know more about how you can conduct the program in your school or community.

Media Pack
If you are a journalist, blogger or content creator, you may find our media pack useful. Download to get stock pictures, founder profile,
founder picture and a brochure of Missing Link Trust.For any other additional information, email us at reachus@savemissinggirls.com
We are hiring!
We are a passionate bunch at Missing Link Trust and we are always looking at like-minded people keen at working in the impact sector.
If you are a graduate with experience in social sector, corporate professional looking to contribute full time or part time or someone with skills in graphic design, project management, IT and digital marketing, we are looking for you!
Email us at reachus@savemissinggirls.com with a short introduction
about yourself and a CV. We will get back to you.
Videos
See and participate through our videos to increase your awareness. You can explore our journey through Leena's experience
or watch our volunteers and community at work in our murals and school awareness programme. Our tribe keeps on increasing.
See some of the country's prominent public figures and thinkers give their sound bytes in support to our cause.