"Empower Women, Prevent Sex Trafficking"
"Missing x Biba: Join us in creating a safer world for women and children"
Introduction
Map of India with highlights of areas of trafficking, accompanying the stat below Every day, more than 200 children and 680 women go missing in India.
West Bengal accounts for about 42% of that, of which 40% are minors.
Extreme poverty makes the women in Sundarbans very vulnerable. Lack of livelihood opportunities and aspirational models make the women and girls succumb to false promises of predators.
They end up in the dark holes of the red-light districts of the country. We can stop this.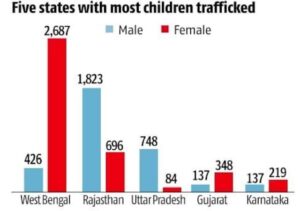 The Solution: Missing Link Trust
Missing is an award-winning non-profit organization using art & technology to create awareness against sex trafficking and intervene at a prevention stage. Our mission is to provide awareness, resources and aid to those who need it most, with a focus on education and empowerment.
MISSING works with the most vulnerable women in Sundarbans who are victims of various adversities. A majority of these women are survivors of domestic violence or are the sole earning members in their families.
The Women Empowerment Centre
Missing established a Women Empowerment Centre with tailoring units which train and upskills these women to make high-quality bags and products for giving them a livelihood and empowering them.
To be put in a creative: Most beneficiaries of the WEC are young girls aged 16 and above. Through their work, they act as catalysts in breaking the cycle of exploitation for themselves and their family.
Image with text overlay: Learning new skills for the first time has given them hope for a better life and the work with WEC has impacted their ability to educate their children and take care of their families.
The Story of the Missing Bag

The Missing Bag is a symbol of hope and empowerment for the women who participate in the WEC program. Crafted by them, the bag represents the resilience and strength of the women who have overcome adversity and are now taking control of their lives.
On a picture with the bag:
With your support, we can help put an end to sex trafficking and create a safer, more just world for all. When you support and buy a Missing bag, you are not just buying a bag, but giving support to most vulnerable women to trafficking in the Sundarbans.
Impact of Missing and the WEC
Since its inception, Missing has had a significant impact on the lives of countless individuals around the world.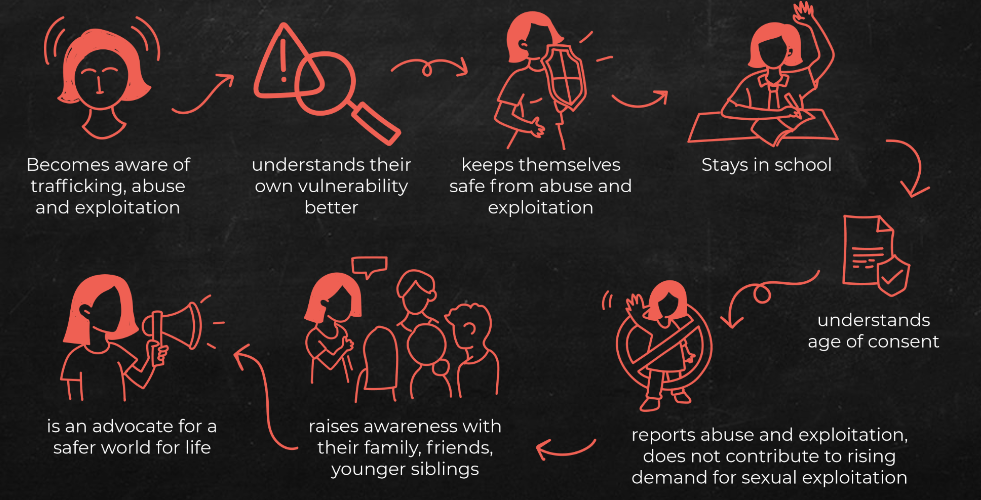 To be put in a creative:
– Working in the area for more than five years with more than 500 women and children
– WEC has fulfilled orders of more than 1,00,000 bags, and more are being made every day
– We have made customized orders for several brands such as Jaypore, JLF, German Consulate, etc.
But it's not just about the numbers. Here's an example to illustrate the difference that Missing and the WEC program have made in the lives of the women we serve:
On a creative:
Riya Bera, an 18-year-old passionate dancer from a remote village in Sunderbans, faced a dark turn in life when she met a man on Facebook who promised to fulfill her dreams. He lured her to a distant place in Medinipur, took advantage of her trust, and recorded a compromising video without her knowledge. Harassed and threatened, Riya's mental health suffered.
Fortunately Riya's father met a MISSING employee and shared her story. MISSING stepped in to help Riya, providing counseling, support, and resources. Today, Riya has found a new purpose, working at MISSING's local office, contributing to various projects, and learning valuable computer skills.
Riya's journey is just one of many stories of hope and empowerment that MISSING has helped create. Together, we can continue to make a difference in the lives of many more individuals like Riya.
Partnership with Biba
Missing and Biba logos
Biba, a leading Indian ethnic wear brand, has a strong commitment to empowering women and promoting social causes,  emphasizing the importance of giving back to the community.
Biba understands the importance of engaging its customers in meaningful causes and this partnership provides an opportunity for people to be a part of a bigger cause and contribute towards change. 
On a creative: By purchasing a Missing bag, Biba customers not only get a beautiful product, but they also support the empowerment of the most vulnerable women in Sundarbans, leading to the prevention of sex trafficking in the region.
Biba's commitment to social causes and its partnership with Missing is a testament to the brand's dedication to making a difference in the lives of those in need. By joining hands with Missing, Biba is creating a ripple effect of change and empowering women, one bag at a time.
Get Involved
At the grass root level, MISSING's work in rural Bengal has helped save girls from the dark world of sexual exploitation, saving their future. As MISSING works in the thick of the trafficking belt, we are able to extend our help just where it is needed.
There are many ways to get involved with our work at Missing. Whether you are an individual, a community group, or a business, we welcome your support in helping us to support vulnerable women.
On a creative: If you're inspired by our mission and want to make a difference, get involved and help make a difference!